Why organic cotton?
Even though bright white cotton may at first sight appear to be a natural product, in fact this substance is more environmentally unfriendly than most synthetic substances. After coffee, cotton is the crop that most pesticides are used for. In addition, chlorine is also used for bleaching and formaldehyde for processing. To produce one t-shirt about 150 grams of chemical agents are needed in cotton cultivation.
The starting point for organic cotton is: 'Work with nature, not against nature'. Organic farmers use vegetable and animal waste to fertilize the land. Obviously this is better for the environment and better for people.
.
What does GOTS mean?
The trade mark Global Organic Textile Standard (GOTS) for organic textiles aims to guarantee the organic status of textiles.
It covers the entire production process, from raw fibers, through environmental and socially responsible processing, transport and manufacturing to final labeling. To be eligible for the GOTS quality mark, the following mandatory criteria must be met:
* The raw fibers must be natural only, and grown in a 100% organic way;
* Every step in the entire production process must meet certain criteria, according to GOTS, with the aim of achieving as much environmental benefit as possible.
The GOTS logo has now replaced the EKO Sustainable Textile logo. In practice you will encounter both labels. Also on our products are both logos, that has to do with the moment of production. On our products, both the GOTS logo and the EKO logo are always CU 020876 or Control Union 020876. This number refers to our producer: The Rajlakshmi Cotton Mills Ltd.
The organization that controls and issues this quality mark is Control Union Certifications.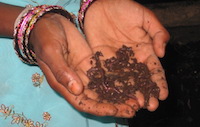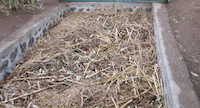 How to produce natural fertilizers?
The vegetable and animal waste need time before it can be used as fertilizer. It must compost. The worms help with this. They eat the 'waste'  and with their droppings they ensure that the compost becomes better in quality again.
In preparation for sowing, among other things, all the 'waste' is taken from the land. Farmers who do not grow organically burn this 'waste'.
During one of the visits to India, certified farmers showed Anne-Rose themselves how the compost was produced.
They were proud of what they had achieved until then and were passionate about ensuring a healthy environment with each other.
Read more about our philosophy?
Why do we use Fairtrade cotton?
Our production chain in India
With a touch of Rose and CSR